ULTRAHEAT S Series
Compact, economical 2kW induction heating systems.
Operate with water-cooled or air-cooled remote heat station.
Advanced, versatile induction heater utilizing the latest switching power supply technology.
Adaptive digital phase control providing very efficient operation in a wide frequency range.
Reliable, modular system, easy to maintain and service.
Flexible, wide range load impedance matching by utilizing multiple transformer ratios and configurable tank capacitance.
Automatic frequency scanning and easy tuning to variety of loads and coils.
Durable design, loaded with safety and diagnostics features.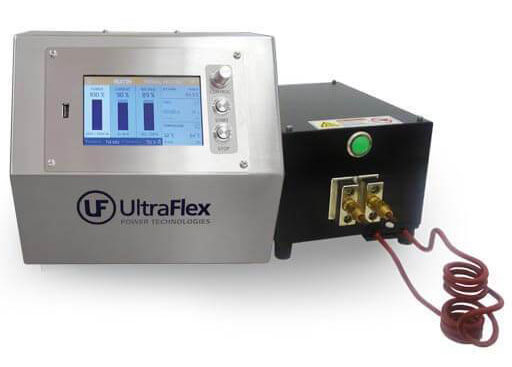 Output regulation – Voltage, Power, Current

Limits setting – Current, DC Volts, Output Volts, Power, Frequency

Compact air-cooled power supply design with automatic fan control

Operator controls – Selectable: Automatic, Remote or Local

Multiple user programs and programmable parameters
Capable of delivering full power in the specified frequency range (see Specifications tables)

Variable ratio output isolation transformer for load matching of a wide range of loads and coils

Power control from 1% to 100% in 1% increments
Advanced 5" Color LCD touch panel

Digital I/O Interface board – Remote Start/Stop

External power control input: 0-10V or 4-20mA

Temperature monitoring & control with K type thermocouple
Temperature regulator for standard IR sensor input

Serial Interface: RS-232 or RS-485

Data logging and remote diagnostics
Power Supply Model
● Standard ○ Optional
SM-2/200
0UPT-030-230
SH-2/350
0UPT-035-230
SMT-2/200
0UPT-030-230
SHT-2/400
0UPT-035-230
Output kW
2.0kW at 230VAC,
1.0kW at 110VAC
2.0kW at 230VAC,
1.0kW at 110VAC
2.0kW at 230VAC,
1.0kW at 110VAC
2.0kW at 230VAC,
1.0kW at 110VAC
Frequency kHz
30-200
100-350
30-200
100-400
AC Line Volts (50/60Hz)
110/230±10%
110/230±10%
110/230±10%
110/230±10%
Line Phases
1
1
1
1
Compact air cooled power supply
●
●
●
●
Auto tuning to variety of loads and coils
●
●
●
●
Control panel
Standard
Standard
5" LCD Touch
5" LCD Touch
User programs
5
5
20
20
Digital I/O & Analog Power Control
○
○
●
●
Temperature control with
K Thermocouple Input
–
–
●
●
Cycle Energy Monitor
–
–
●
●
Serial Interface: RS-232 or RS-485
–
–
○
○
Data logging
–
–
○
○
Weight Lb (kg)
11 (5)
11 (5)
11 (5)
11 (5)
Dimensions
Inch (cm) WxDxH
9.8" x 8.5" x 9.3"
(25 x 21.5 x 23.5)
9.8" x 8.5" x 9.3"
(25 x 21.5 x 23.5)
9.8" x 8.5" x 9.3"
(25 x 21.5 x 23.5)
9.8" x 8.5" x 9.3"
(25 x 21.5 x 23.5)
Compatible Heat Stations
HS-4W
HS-4W
HS-4W
HS-4W
Heat Station Model
HS-4W (1ACC-030-160)
water-cooled
Cable Length between
Power Supply and Heat Station:
Std / Max Ft (cm)
6 (183)/ 30 (914)
Dimensions
Inch (cm) WxDxH
7.1" x 9.3" x 6.5"
(18 x 23.6 x 16.5)
Weight Lb (kg)
8.7 (4)
Cooling requirements
water system quoted upon request
water (external)
Min. Cooling Water,
GpM (LpM)
0.5 (2.0)
Inlet Water T° (max),F (°C)
95° (35°)
Power supply:
RS-232 or RS-485 interface for remote computer monitoring, control and diagnostics
External power control input: 0-10 V or 4-20 mA
External Controls – Start/Stop operation, External Fault
Heat Station:
External Controls – Start/Stop/Foot Switch
Equipment
Description
Part Number
Custom Coil
Custom Coil
designed and manufactured for customer's application.
WCA-1000-02
Water Cooling System
3.0 kW, 230 VAC,1-ph
1ACC-900-100-00

RCP-03

External E-stop box with 6 ft leads
1ACC-725-530-00

FS-01

Foot Switch Assembly
1ACC-777-500-00
ACC-01
Output Coil Adapter
1ACC-754-560-00
ACC-02
Output Adapter Blocks
with 1-4 NPTF
1ACC-030-001-XX
IR-XX
Temperature Control and Monitoring Systems