SOLO Induction Heating Systems
Induction Heating Innovation by UltraFlex
The UltraFlex SOLO Systems are a breakthrough innovation in induction heating technology, featuring a unique Direct Digital Step™ control algorithm.
Compact, air-cooled power supplies with configurable output power from 12kW to 32kW.
The latest SiC MOSFET transistor technology and patented digital control algorithms ensure optimal performance and maximum efficiency in a wide frequency range (from 3 kHz to 400 kHz).
Ultra-flexible, wide range of load impedance matching by utilizing multiple transformer ratios and configurable capacitor banks.
Durable and reliable design with built-in tuning, safety, and diagnostics features.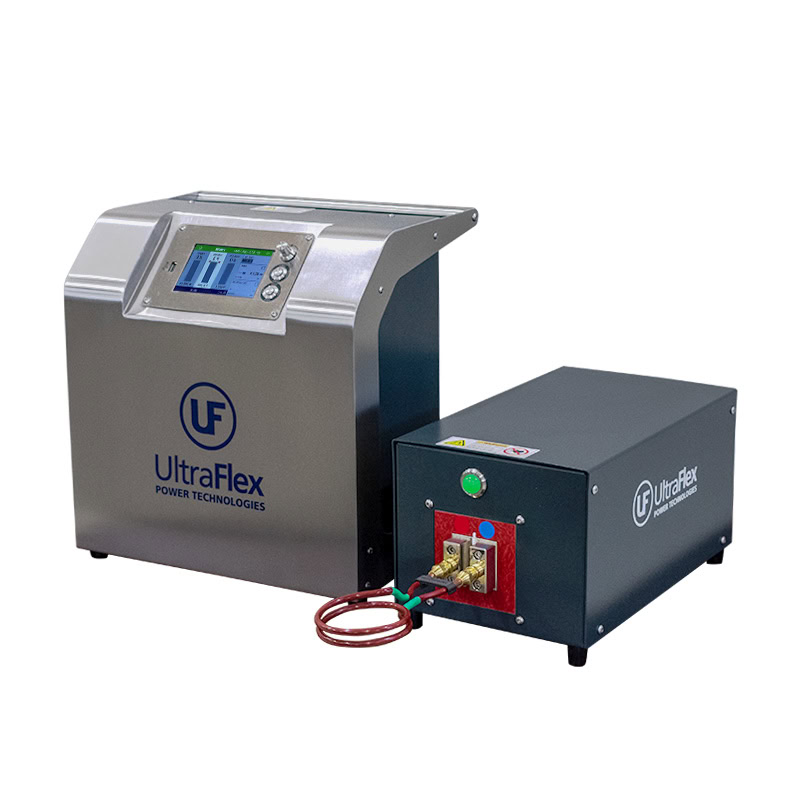 Precise power control from 0 to 100% of rated power

Output regulation: Power or Current

Parameter Monitoring: Current, DC Volts, Output Volts, Output Power, Frequency

Industrial control panel – 5" LCD touch, full color

Advanced and intuitive user interface

Multiple heating programs and profiles for automatic process control

0-10V or 4-20mA external control and remote Start/Stop operation

USB connectivity for firmware upgrades
Control modes: Automatic, Remote or Local control

Automatic frequency scanning and load tuning

Fast dynamic response and ramp-up time for short heating cycles

Remote Heat station with a variable ratio transformer and a configurable capacitor bank for matching to a wide range of loads and coils

Built-in temperature control and monitoring features

Data logging of process and operating parameters

RS485 (MODBUS) serial interface for remote control and monitoring
SOLO Models
System model
SOLO 10
SOLO 12
SOLO 16
SOLO 24
SOLO 32
Output Power kW
12kW
12kW
16kW
24kW
32(25*)kW
Power Supply
Part Number
0UPT-540-100-10
0UPT-540-100-12
0UPT-540-100-16
0UPT-540-100-24
0UPT-540-100-32
AC Line Volts (50/60Hz)
380/480V ±10%
230 V ±10%
380/480V ±10%
380/480V ±10%
380/480V ±10%
Line Phases
3
3
3
3
3
Weight Lb (kg)
44 lb. (20 kg)
44 lb. (20 kg)
44 lb. (20 kg)
44 lb. (20 kg)
44 lb. (20 kg)
Dimensions
Inch (mm) WxDxH
15.7×12.4×16.1″
(400x314x409)
15.7×12.4×16.1″
(400x314x409)
15.7×12.4×16.1″
(400x314x409)
15.7×12.4×16.1″
(400x314x409)
15.7×12.4×16.1″
(400x314x409)
Compatible Heat Station
HS-16H, HS-24W
HS-16H, HS-24W
HS-16H, HS-24W
HS-24W
HS-32W, HS-32L
Heat Station Models
Heat Stations Model
HS-24W
HS-16H
HS-32W
HS-32L
HS Part Number
1ACC-540-100-02
1ACC-540-450-02
1ACC-540-200-02
1ACC-540-300-02
Frequency kHz
40-200
150-400**
15-150
3-30
Weight Lb (kg)
35 (16)
35 (16)
44 (20)
44 (20)
Dimensions
Inch (mm) WxDxH
9.1×16.7×8.1"
(232x425x208)
9.1×16.7×8.1"
(232x425x208)
15.4×14.4×9.8"
(390x410x256)
15.4×14.4×9.8"
(390x410x256)
Cooling requirements
water
water
water
water
Min. Cooling Water, GpM (LpM)
2(8)
2(8)
2(8)
2(8)
Inlet Water T° (max), °F (°C)
95°F (35°C)
95°F (35°C)
95°F (35°C)
95°F (35°C)
*Derated if operating at 380-400VAC Line Voltage
**Derated to 320kHz above 12kW
Induction Heating Benefits
Improved energy efficiency
Greater process control while eliminating operator variability
Increased repeatability
Low maintenance requirements
Increased productivity