Induction Heating Innovation by Ultraflex
Ultraflex SmartPower™ Compac Systems are a breakthrough innovation in induction heating technology, featuring the Direct Digital Step™ control algorithm and a unique configurable modular approach.
Configurable and field upgradeable power supplies with output power from 50kW to 400kW.
Wide output frequency range – two ranges available from 6kHz to 60kHz and from 40kHz to 200kHz.
Zero downtime can be achieved if an additional module (N+1) is installed in the system.
The latest SiC transistor technology and proprietary digital control algorithms ensure optimal performance and maximum efficiency in a wide frequency range.
Ultra-flexible, wide range of load impedance matching by utilizing multiple transformer ratios and configurable capacitor banks.
Configurable to work with a single or multiple, independently controlled RF outputs from one cabinet.
Can operate with optional heat stations allowing the load coils to be placed remotely.
Durable and reliable design with built-in tuning, safety, and diagnostics features.
Learn more about the Benefits of SmartPower and the Benefits of Modular Induction Heating Systems.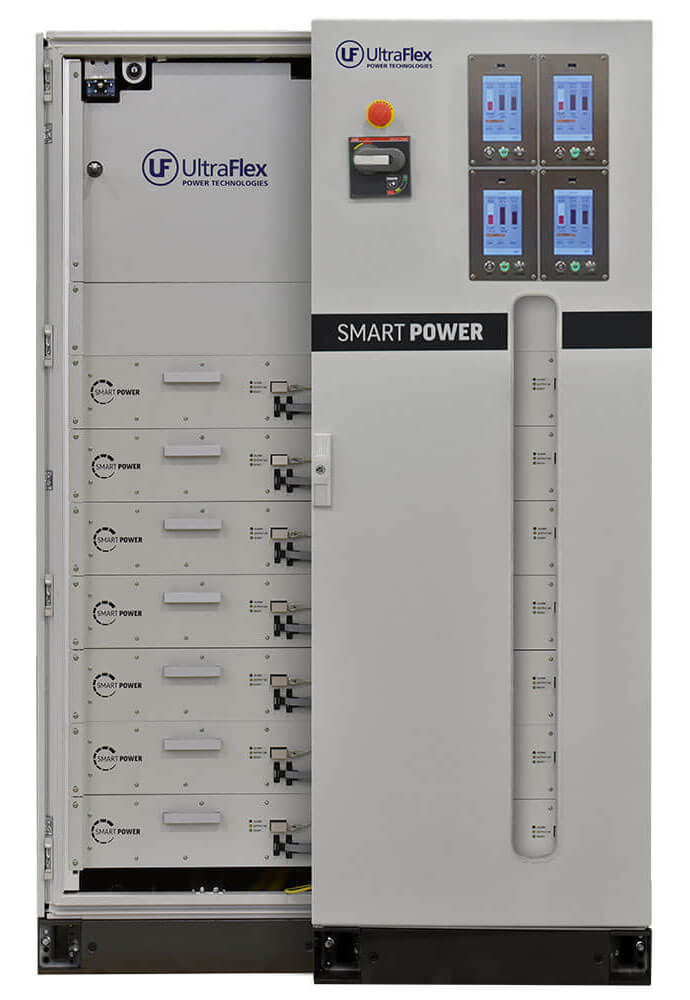 Precise power control from 0 to 100% of rated power

Output regulation: Voltage, Power, Current

Parameter Monitoring: Current, DC Volts, Output Volts, Power, Frequency

RF Amplifier modules operating in a wide frequency range
(6kHz – 200kHz)
Control modes: Automatic, Remote or Local control

Automatic frequency scanning and load tuning

Fast dynamic response and ramp-up time for short heating cycles

Variable ratio transformer for matching to a wide range of loads and coils
Industrial control panel – 12" LCD touch, full color

Advanced and intuitive user interface

Multiple heating programs and profiles for automatic process control
High accuracy cycle-by-cycle energy monitoring

Built-in temperature control and monitoring features – optional

Data logging of process and operating parameters
0-10V or 4-20mA external control and remote Start/Stop operation

Ethernet and USB connectivity for firmware upgrades and diagnostics
RS485 (MODBUS) serial interface for remote control and monitoring
Smart Power System Model
USP-C-100
USP-C-200
USP-C-400
USP-CD-100
Description
Single Output
Full Rack
Dual Output
Full Rack
Quad Output
Full Rack
Single Output
Double Rack
Number of PA Modules
2 – 8
2 – 8
2 – 8
10 – 16
RF Outputs

1
2
4
1
Power Amplifier
Type
MF
25 / 60
WF
25 / 200
MF
25 / 60
WF
25 / 200
MF
25 / 60
WF
25 / 200
MF
25 / 60
WF
25 / 200
Frequency Range
6-60 kHz
40-200 kHz
6-60 kHz
40-200 kHz
6-60 kHz
40-200 kHz
6-60 kHz
40-200 kHz
Output Power Range
50 kW
(2 x 25 kW Modules)
to
200 kW
(8 x 25 kW Modules)
50 kW
(2 x 25 kW Modules)
to
200 kW
(8 x 25 kW Modules)
50 kW
(2 x 25 kW Modules)
to
200 kW
(8 x 25 kW Modules)
250 kW
(10 x 25 kW Modules)
to
400 kW
(16 x 25 kW Modules)
AC Line, VAC
3-phase (50/60Hz)
380 / 480 ± 10%
380 / 480 ± 10%
380 / 480 ± 10%
380 / 480 ± 10%
Dimensions
Inch (mm) WxDxH
23.6" x 28.3" x 72"
(600 x 720 x 1820)
23.6" x 28.3" x 72"
(600 x 720 x 1820)
23.6" x 28.3" x 72"
(600 x 720 x 1820)
47.2" x 28.3" x 72"
(1200 x 720 x 1820)
Weight Lb (kg)
400-660
(180-300)
400-660
(180-300)
400-660
(180-300)
400-660
(180-300)
Technical Data
PA Modules Installed
PA1
PA2
PA3
PA4
PA5
PA6
PA7
PA8
Voltage Range
Input Current maximum [A]
(RMS per Phase)
34.7
69.4
104.1
138.8
173.5
208.3
243.0
277.7
min 380V-10%
Input Current maximum [A]
(RMS per Phase)
31.5
62.9
94.4
125.9
157.4
188.8
220.3
251.8
max 480V+10%
Remote Heat Station Model
HSP-50 M
HSP-100 M
HSP-200 M
HSP-50 W
HSP-100 W
HSP-200 W
HSP-400 W
Output Power Range
40 – 50 kW
50 – 100 kW
100 – 200 kW
50 kW
50 – 100 kW
100 – 200 kW
400 kW
Frequency Range
6 – 60 kHz
6 – 60 kHz
6 – 60 kHz
40 – 200 kHz
40 – 200 kHz
40 – 200 kHz
50 – 150 kHz
Dimensions
Inch (mm) WxDxH
15" x 24,5" x 19,1"
(382 x 624 x 485)
15" x 24,5" x 19,1"
(382 x 624 x 485)
22,9" x 26,5" x 19,1"
(382 x 624 x 485)
15" x 24,5" x 19,1"
(382 x 624 x 485)
15" x 24,5" x 19,1"
(382 x 624 x 485)
22,9" x 26,5" x 19,1"
(582 x 674 x 485)
16,5" x 32,3" x 19,1"
(420 x 820 x 485)
Weight Lb (kg)
176 (80)
200 (90)
215 (98)
176 (80)
200 (90)
215 (98)
198 (90)
Configure your power and frequency range
Multiple outputs in one system
Upgrade your power as you need it
Zero down-time operation
Ultra flexible performance
Latest SiC transistor technology
Energy efficient and compact
Low maintenance cost