SOLO RoboBraze Automated Induction Brazing System
RoboBraze is a compact induction heating and brazing unit that can integrate with robotic arms, in automated production lines, or for in-place brazing.
The RoboBraze unit has special induction heating terminals to mount various custom heating coils.
It can interface with PLCs or industrial robots via analog and digital signals or via a serial interface.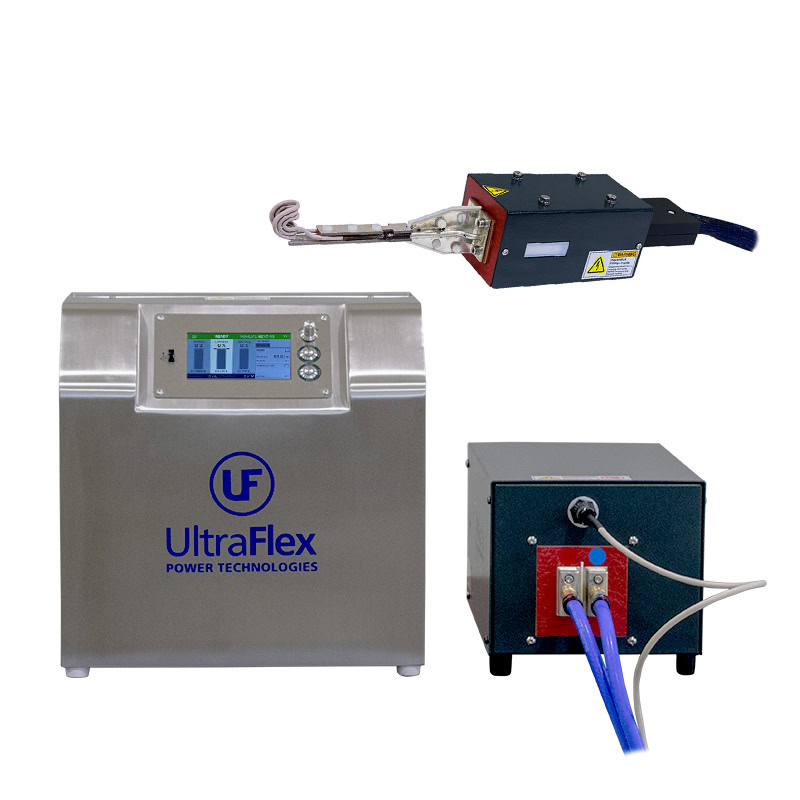 Precise power control from 0 to 100% of rated power

Output regulation: Power, Current

Parameters Monitored: Current, DC Volts, Output Volts, Output Power, Frequency, Temperature

Industrial control panel – 5" LCD touch, full color

Advanced and intuitive user interface

Multiple heating programs and profiles for automatic process control

0-10V or 4-20mA external control and remote Start/Stop operation

USB connectivity for firmware upgrades
Automatic frequency scanning and load tuning

Fast dynamic response and ramp-up time for short heating cycles

Variable ratio transformer for matching to a wide range of loads and coils

Built-in temperature control and monitoring features

Data logging of process and operating parameters

RS485 (MODBUS) serial interface for remote control and monitoring
SOLO RoboBraze Models
RoboBraze System Reference
RoboBraze 12
RoboBraze 16
RoboBraze 24
Power Supply Model
SOLO10
SOLO16
SOLO24
PS Part Number
0UPT-540-100-10
0UPT-540-100-16
0UPT-540-100-24
Output Power kW
12
16
24
AC Line Volts (50/60Hz)
380/480 VAC ±10%
380/480 VAC ±10%
380/480 VAC ±10%
Line Phases
3
3
3
Weight Lb (kg)
44 (20)
44 (20)
44 (20)
Dimensions
Inch (mm) WxDxH
15.7″ x 12,4″ x 16.1″
(400 x 314 x 409)
15.7″ x 12,4″ x 16.1″
(400 x 314 x 409)
15.7″ x 12,4″ x 16.1″
(400 x 314 x 409)
Heat Station Model
Heat Station Model
HS-24B
HS Part Number
1ACC-540-100-60
Frequency Range kHz
64-150
Weight Lb (kg)
35 (16)
Dimensions
Inch (mm) WxDxH
9.1" x 16.7"x 8.1"
(232 x 425 x 208)
Cooling requirements
water
Min. Cooling Water, GpM (LpM)
2 (8)
Inlet Water T° (max)
95°F (35°C)
RoboBraze Automation unit
● Standard ○ Optional
RoboBraze Automation unit
RoboBraze 4
RoboBraze 5
Part Number
1ACC-754-461-00
1ACC-754-461-03
Dimensions
Inch (mm) WxDxH
3.54″ x  3.94″ x 7.28″
(90 x 100 x 185)
3.54″ x  3.94″ x 7.28″
(90 x 100 x 185)
Weight lb. (kg)
10 (4.5)
11 (5)
Flex Leads Length, ft (m)
6 (1.8)
6 (1.8)
Dual Color Pyrometer
○
○
Coil Positioning Laser Sensor
○
○
Improved safety through flameless heating
Increased productivity
Automated brazing capabilities
Durable gripper assembly with low maintenance requirements
Power on demand with rapid heat cycles