The SmartScan™ Mini system is the latest addition to UltraFlex's innovative technology products.
SmartScan™ Mini is a flexible and versatile induction heat treating scanner that can be configured to perform a variety of heat-treating processes such as hardening, quenching, tempering, and normalizing. It can be configured to operate as a single spindle unit and accommodate up to 10 inches (25 cm) of part sizes and 66 lbs (30 kg) weights.
Paired with the SmartPower™ Induction heating power supply, the SmartScan™ Mini can be configured to deliver from 50 to 200 kW and from 40 to 250 kHz into the heat-treated part, ensuring that any hardening depth and speed can be achieved for a small range of parts sizes.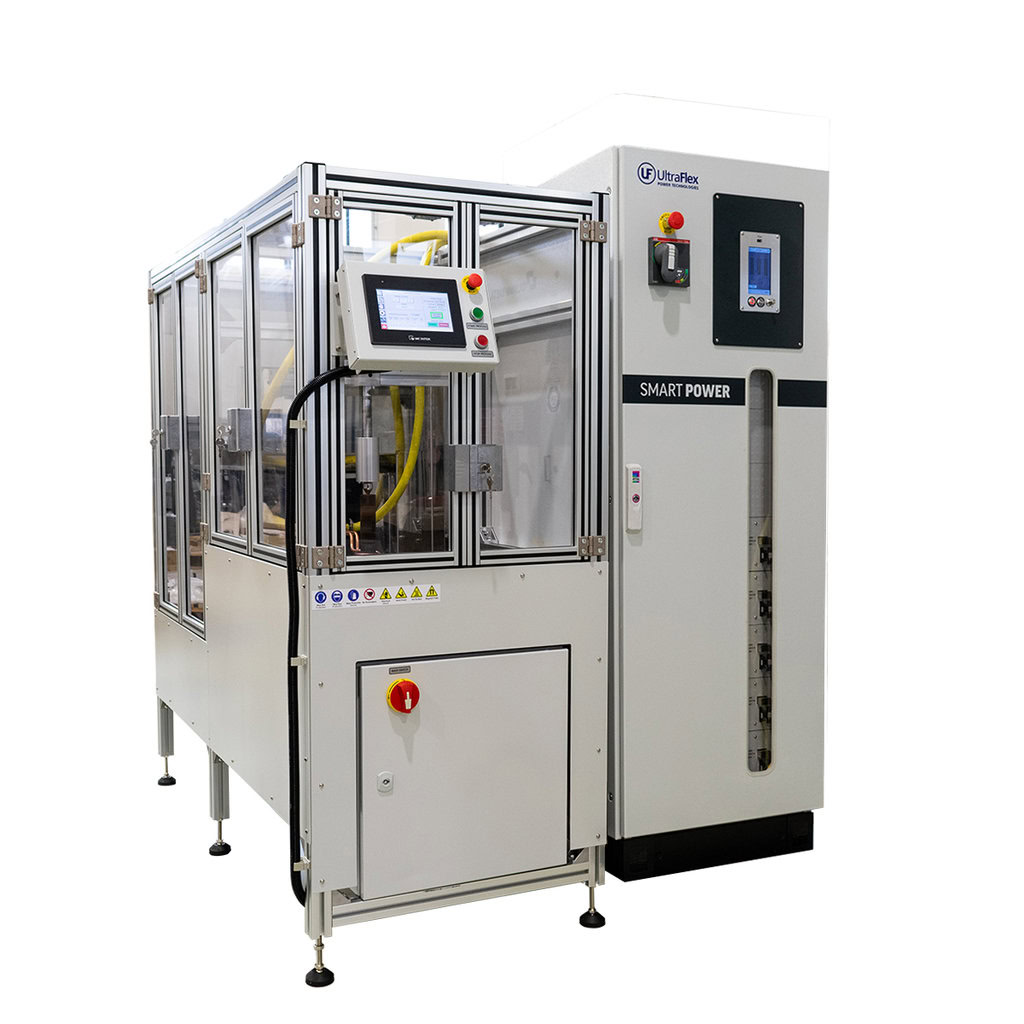 Modular vertical scanning system with single spindle
Precise control of scanning and rotation speed for repeatable results
Capable of accommodating up to 10 inches (25 cm) of part sizes
Manual and automated program settings with multiple pre-programmed recipes
User-friendly touch panel interface loaded with process monitoring and diagnostics features
Easy load/unload and part centering system for manual part loading
Increased productivity and precise process control guarantee excellent results
Energy-efficient power supply unit (>95%), saves on energy cost
Modular unit, easy to service and maintain
Can operate with almost zero downtime
Ultracare maintenance program including a remote diagnostics module
Chiller for cooling the power supply and the quenching liquid
Custom coils for different sizes of parts
Quick-connect coil system for easy replacement of induction coils
Water-to-water cooling unit and quenching system with filtration
Power Supply Configurations
1 controlled output
Output Power (Configurable), kW
50 – 400
Frequency Range, kHz
5 – 250
AC Line Volts (50/60 Hz)
380/480V AC ± 10%
Scanning Length, Inch (cm)
6 inch (15 cm)
Rotation Speed (max), RPM
150
Part Length (max), Inch (mm)
10 (250)
Part Weight (max), lb. (kg)
66 (30)
Dimensions of the Scanner
WxDxH, Inch (mm)
53.07 x 69.49 x 64.37 (1348 x 1765 x 1635)
Weight of the Scanner, lb. (kg)
1543 – 1764 (700 – 800)