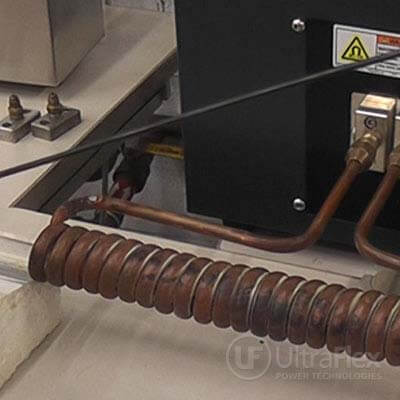 Objective
Induction Wire Heating
The purpose of this test is to heat 0.093″ (2.36mm), 0.265″(6.73mm) and 0.274″ (6.95mm) dia steel wire to 600°F (315°C) at 2 feet (60.96cm) per minute.
Recommended Equipment
The recommended equipment for this test is the UPT-SM2/200.  For increased production rates the UPT-SM5/200 or higher can be used.
Key Parameters
Temperature: 600°F (315°C)
Power: 0.69kW – 1.37kW
Time: 6 – 15 seconds
Results and Conclusions:
The wires were heated with less than 2kW of power to 600°F (315°C) with an Ultraflex lab coil in 6 to 15 seconds.  The time to temperature will vary based on the wire size and it can be lowered by optimizing the coil design to fit the individual wire sizes.