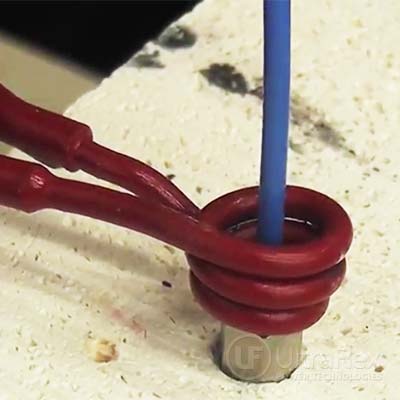 Objective
Solder flexible and solid leads to a copper connector in under 3 seconds by reaching a temperature of approximately 400°F (204°C) with induction heating.
Equipment
UPT-SM5/200
HS-4W Heat Station
3-turn coil
Materials
• Solid copper lead
• Flexible copper load
• Copper connector
Key Parameters
Power: 0.40kW
Temperature: Approximately 400°F (204°C)
Time: 3 sec
Process:
A coating of solder flux is applied to the wire and lead.
The assembly base is positioned inside the coil.
Induction heat is applied for 3 sec until the soldering is complete.
Results/Benefits:

Induction heating pinpoints the heat to the desired area of the part
Improved process control for precise heating to a desired temperature
Power on demand and rapid, consistent heat cycles
Technology without pollution, which is both clean and safe