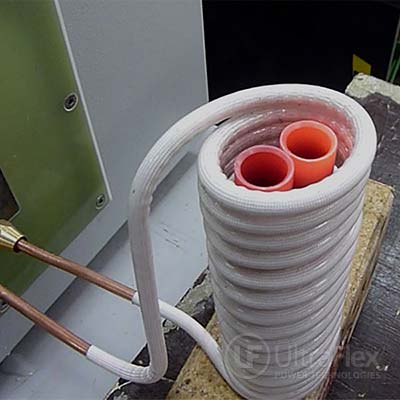 Objective
Uniformly heat two copper tubes simultaneously to 800°F (426°C) in under 10 seconds with induction heating.
Equipment
UPT-M35/50
HS-35 Heat Station
Helical coil
Material
• Two copper tubes
– OD: 0.69'' (1.75 cm)
– ID: 0.55'' (1.40 cm)
– Length: 5.50'' (14.0 cm).
Key Parameters
Power: 27kW
Temperature: 842°F (450°C)
Time: 5 sec
Process:
The two copper tubes were placed together in the coil.
Induction heat was applied for 5s.
Results/Benefits:
Improved process control for uniform heating to a desired temperature
Power on demand and rapid, consistent heat cycles
Technology without pollution, which is both clean and safe