Ultracast Pro is a technologically advanced casting system using a unique lost wax casting approach. The unique design eliminates the need for crucibles by incorporating the crucible's function into the invested ring.
The heating is done quickly and efficiently via high-power induction heating. The casting process is fully automated and safe providing repeatable and reliable casting results.
It is an extremely compact, multi-purpose machine that will allow you to melt and cast in air, vacuum, and inert atmosphere (argon or nitrogen). This machine can be used for investment casting, ingot casting in permanent molds, granulating, or scrap melting.
UltraCast Pro is capable of casting and delivering excellent casting quality with all commonly used jewelry metals and alloys (precious and non-precious).
The advanced LCD Touch control panel features an easy to use interface and provides intuitive and informative visual feedback. The control panel is designed to display the measured process parameters, receive user input, set various parameters, and save multiple programs. It also displays diagnostic and warning messages
In North America available exclusively from Rio Grande.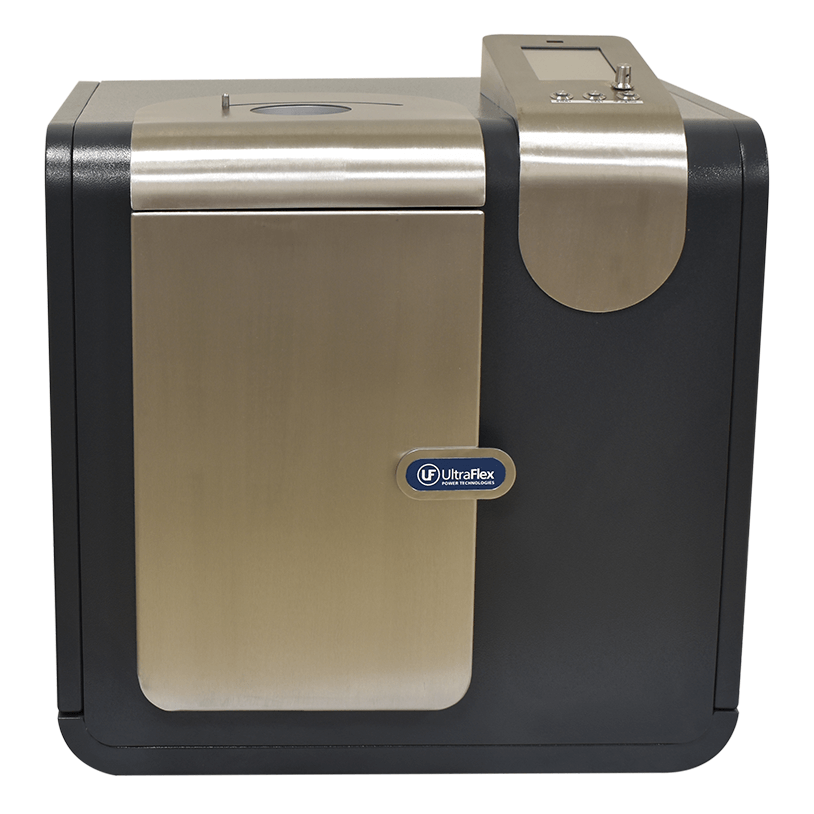 Fully automatic pressure injection casting

Multifunctional system – casting, graining or re-melting

Compact tabletop design with integrated vacuum pump

Unique process – eliminates costly crucibles and flasks

Advanced, highly efficient induction heating technology
Melting in air, vacuum or inert gas (argon or nitrogen)

Built-in Infrared sensor for temperature reading and control

Modern 5" full color LCD touch control panel

Multiple user programs with many pre-programmed recipes

Easy to install and simple and safe to operate
UltraCast Pro
0UPT-042-100

Power (max)
4 kW
AC Line, (50/60Hz), 1 Phase
230 V ±10%
Melting Temperature (max)
2000 °C
Melting Capacity
300g Au (min 75 g); 250g Pt (min 50g)
Melting Volume
1.75" rubber base – 13 cm3
3.5" rubber base – 18 cm3
Flask Size (min), DxH
43 mm x 137 mm
Flask Size (max), DxH
87 mm x 127 mm
Water Cooling System
Not included (Quoted upon request)
Vacuum Pump
included
Weight
58 kg (127 Lb)
Dimensions, LxWxH
54 cm x 51 cm x 57 cm
(21" x 20" x 22")
Improved energy efficiency compared to resistance or flame heating
Uniform heating with high degree of controllability and repeatability
Increased productivity by rapid time-to-temperature heating
Eliminates open flame safety hazard and propane handling costs
Low maintenance requirements, easy to use systems
| | | |
| --- | --- | --- |
| Equipment | Description | Part Number |
| | | |
| --- | --- | --- |
| № | Description | Part Number |
| 1 | Ring Stiffener 1.75″ | 2DET-042-000-MA |
| 2 | Ring Stiffener 3.0″ | 2DET-042-000-MB |
| 3 | Ring Stiffener 3.5″ | 2DET-042-000-MC |
| 4 | Sprue Button Penta – Form | 2DET-769-000-OA |
| 5 | Plastic Ring 1.75″ | 2DET-042-000-LA |
| 6 | Plastic Ring 3.0″ | 2DET-042-000-LC |
| 7 | Plastic Ring 3.5″ | 2DET-042-000-LD |
| 8 | Rubber Base 1.75″ | 2DET-769-000-KA |
| 9 | Rubber Base 3.0″ | 2DET-769-000-KC |
| 10 | Rubber Base 3.5″ | 2DET-769-000-KD |
| 11 | Ceramic Base | 2DET-042-100-AC |
| 12 | Ceramic positioning ring for 1.75″ flask | 2DET-042-100-AG |