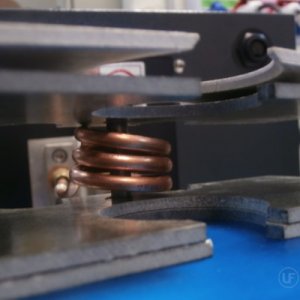 Objective
Shrink fitting of PTFE tube with a substrate inside using induction susceptor heating. Shrinking temperature is 350°C. Overheating of inner wire must be prevented.
Equipment
SM2/200 Power Supply with thermocouple
HS-8 Heat Station
Ultraflex 3-turns coil
Materials
Stainless steel pipe
Fixture for the stainless steel pipe
Guidewire with diameter app 0.035 inch (0.014 cm)
Key Parameters
Temperature: approximately 662° F (350°C)
Power: 0.4 kW
Time: 35 seconds
Frequency: 143 kHz
Preparing:
Stainless steel pipe will be used for susceptor. It will be heated by induction using temperature control of the process.
Simple fixture for stainless tube holding was made. Thermo-couple was attached to one end of the tube. Purpose of the fixture is to prevent wire and shrink material to touch the hot surface of the pipe.
Thermo-couple was attached to induction generator in order to use internal thermo-regulator.
Process
Initial heating with thermo-regulator parameters:
– Power set: 20%
– Temperature set 350°C
– Temperature zone 200°C
– Temperature offset 24°C
Preheating time is around 2 min.
Feed and moving the wire through the hot pipe by hand
Results
Main objective of the test was achieved. PTFE can be heated from "outside" using controlled process.
Heated sections of the wire seem with good quality.
Wire doesn't seem to be damaged.
Conclusions:
2kW air cooled unit is suitable for the process.
Custom air cooled (litz wire) coil have to be designed.
Speed and temperature have to precised to achieve perfect results.
Recommendations:
– SM-2/200 with TC
– HS-4AN
– Custom designed coil
As a vital part of the process, feeding of the wire needs more attention.