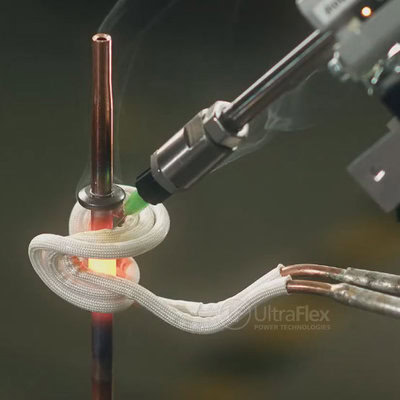 Objective
Induction brazing of copper pipes via automatically fed brazing wire using the Dragon 15 – Robotic Brazing System. Universal robots-UR5 is integrated to work with 15 kW induction system and a wire feeder.
Equipment
Dragon 15 – Robotic Brazing System
wire feeder
Materials
• copper pipe (Size: 6 x 0.75 mm)
• brazing wire – 0.8 mm (silver brazing alloy: L-Ag 56 SN (DIN 8513) BAg-7 (AWS A5.8 ) ~Ag 156 (EN ISO 17672).
Dragon15 Robot controls the induction system via its PLC inputs. Special RoboBraze gripper is used for attaching the induction coil to the robot's hand.
Process: 
Dragon15 is programmed to reach the predefined joint positions. The robot controls the induction system and the wire feeder via PLC interfaces. The wire feeder is programmed to start feeding wire when the brazing temperature is reached.
Results:
perfect joints for less than 8 sec.; no operator needed – fully automated process;
fine adjustment of the whole system according to the customer's process requirements: time, temperature, power, speed, etc.