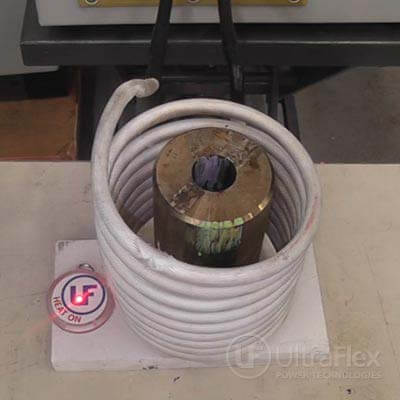 Objective
Preheat the inside of a stainless-steel cylinder to 121°C (250°F), while keeping the outside surface temperature at or below 204°C (400°F).
Recommended Equipment
The recommended equipment for this application is the UPT M35/150 – HS 35/150
Materials
Stainless Steel Cylinder
3.015" (76.5mm) OD,
1.125" (28.5mm) ID,
6.8" (172.72mm)length
204°C (400°F) Tempilaq
121°C (250°F) Tempilaq
Key Parameters

Power: 11.22 kW
Temperature:
204°C (400°F) (Outside)
121°C (250°F) (Inside)
Time: 55 Seconds
Results and Conclusions
11.22 kW of power was applied for approximately 30 seconds until the surface temperature reached 204°C (400°F). The power was then shut off and thermal conductivity transferred heat to the inside surface until it reached 121°C (250°F). The whole process took 55 seconds to complete.