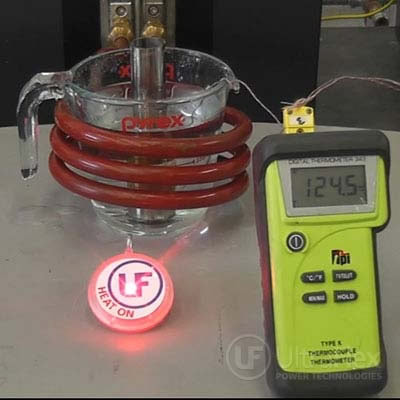 Objective
The objective is to heat spheres in a fluid flow of 1-5 gal/min up to 80°C within a few minutes and remain at that temperature for one hour for a nuclear research application. For this application test, a steel susceptor is used in place of the spheres.
Equipment
W-10 Power Supply
HS-8 Heat Station
Materials
1 inch OD (25.4 mm) stainless steel pipe inside a glass tube

Key Parameters

Power:  6.7kW
Temperature: 200°F (96°C)
Time: 30 seconds
Process Steps
A 1 inch (25.4 mm) OD stainless steel tube was placed inside of a glass container with 4.2 inch (106.6 mm) ID.
The coil is 3 turns with 4.8 inch (121.9 mm) OD and 2 inch (50.8 mm) height
A thermocouple was attached to the stainless steel pipe inside the water container for measuring the temperature.
Results and Conclusions
The water temperature started increasing from 27°C c to 96°C in 30 sec of heat time inside the glass tube.