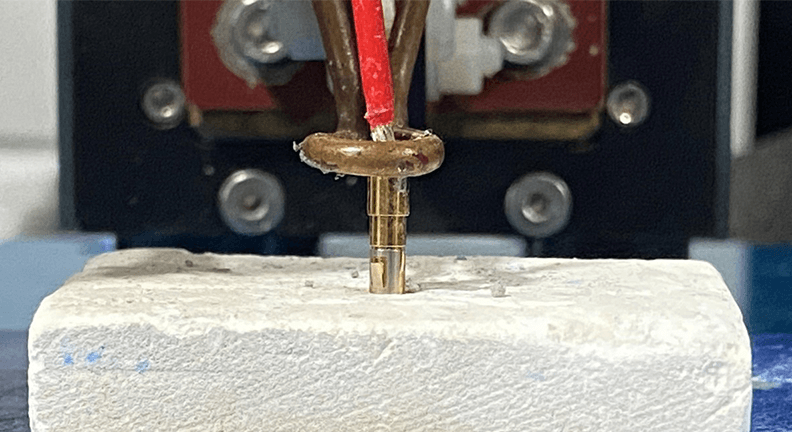 Objective:
The objective of this induction heating application is to solder cables to copper pins for harness manufacturing. The customer is a manufacturer of mission-critical test systems for the Aerospace Industry. The goal is to reduce soldering time from 10 minutes by hand to less than 1 minute with the help of an induction heating system and increase solder quality and repeatability.
Equipment:
UltraFlex has a line of induction soldering equipment, typically used in a similar application – UltraHeat SBT Systems, high-frequency induction heating systems for soldering and brazing of small components and parts.
Process:
The customer provided a large cable with 0.2"(5.08 cm) OD and a pin 1"(2.5 cm) long, 0.178" (0.44 cm) OD, a cable receiver 0.2" (5.08 cm) long, 0.169" (0.42 cm) ID, 0.19" OD and a small cable with 0.09" (0.22 cm) OD, as well as, a small pin 0.114"( 0.28 cm) OD and a cable receiver 0.16"( 0.40 cm) long, 0.07"( 0.17 cm) ID. 0.129" (0.32 cm) OD.
Soldering paste was applied inside the cable receiver on the pin and to the stripped end of the cable. The pin was then placed in its holder. The induction heating coil entirely covered the cable receiver. Induction soldering with the SB3/HSB-3 system was completed in 2 seconds at 60% power to a temperature of ~600°F (315°C).
Industry: Aerospace & Defense
Subscribe to our YouTube Channel: