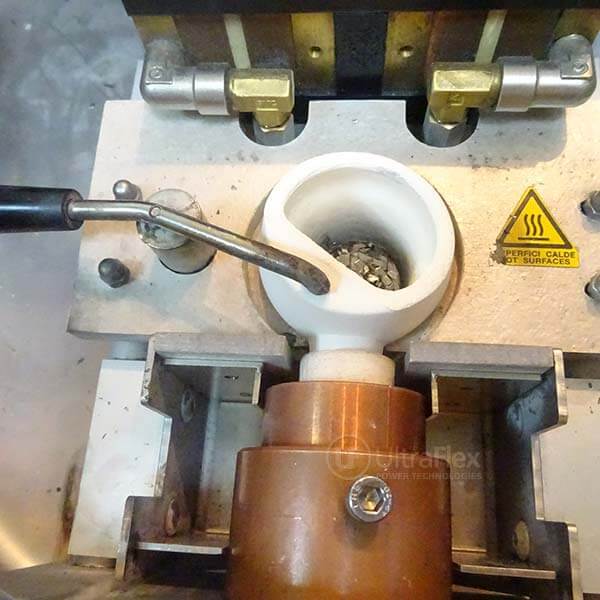 Objective
Casting of titanium shavings in copper mold in order to perform an analysis of the sample.
Equipment
SuperCast J5
Materials
• Scrap titanium
• Crucible for melting
Key Parameters:
Temperature: over 3092°F (1700°C)
Power: 5 kW
Time: 60 seconds
Process:
The test was performed with mold that the cast sample is coin-shaped, 3mm high and 35mm in diameter. The casting sample require 20g of titanium shavings. Settings used during the test were Power=100%, Speed=500RPM, and Acceleration=0.1s.
The titanium shavings are very well cleaned. First with solvents, then with soap and water in an ultrasonic bath, and finally with water.
The scrap is heated to 600C and held at this temperature until all residue has evaporated entirely. If the scrap is not well cleaned and oil-free, the casting sample becomes very fragile.
The titanium shavings are pressed into a cylindrical ingot with dimensions H=40mm and D=23mm with a 45-ton presser.
The casting cycle includes 4 washing cycles. Afterwards, the vacuum pump is switched on during melting and casting. The sample is left to cool down for 1min under vacuum.
Casting is performed after 100% of the titanium shavings are completely melted and the molten mass of titanium scrap is spread on the bottom of the crucible.