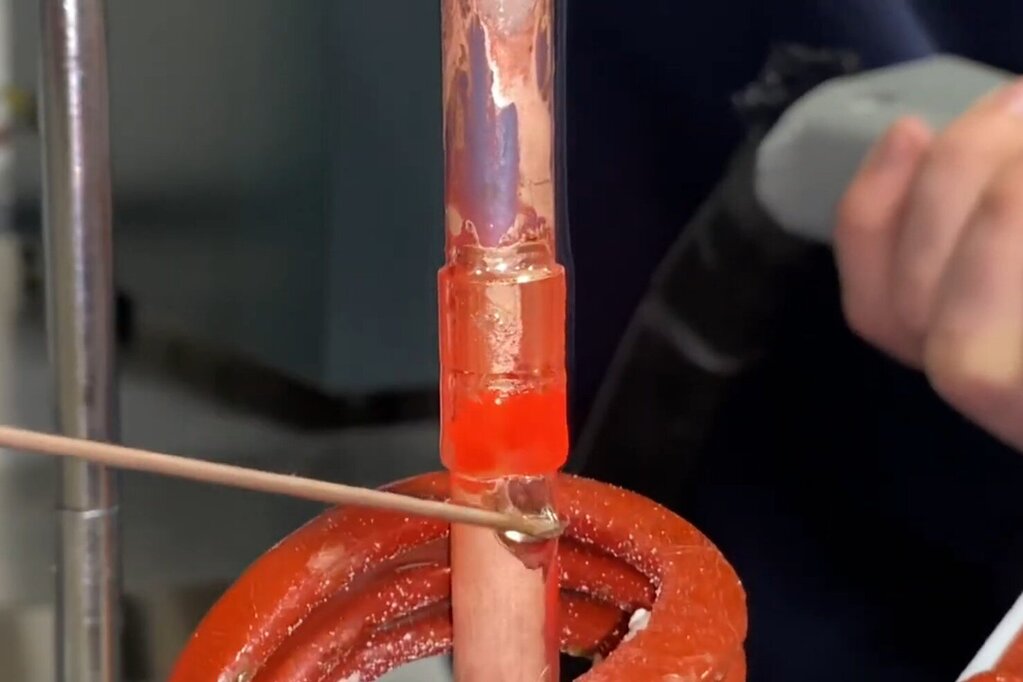 Objective: A customer who specializes in the HVAC industry and in particular in the production of refrigerated food displays is considering using induction heat for their brazing operations.
The samples parts that we received for tests are of different sizes and shapes. For this test, we will use induction heating to braze a 3/8" tube with a 3/8" coupler, a 1/2" swedged tube, and a 5/8" swedged tube.
The objective of this application test is to prove induction as a reliable brazing solution and to produce enduring and repeatable brazing joints. An additional requirement for this application test is the possibility to use one coil for every size of the parts.
Industry: Appliances and HVAC
Equipment: We used UltraHeat W Series – 10 kW induction heating system and UBraze Handheld gun.
Process: To demonstrate the advantages of the induction brazing process, we made two tests. The first one was with the smaller pipes, and the second one with the largest tubes. The key process requirements from a customer were for the temperature – max 1450°F (788°C) and the heat cycle time – between 10 and 20 seconds per joint.
We successfully brazed both size pipes. The largest was done in about 20 seconds, and the smallest in about 15 with the same coil. The power that we used was only 7 kW – available due to the coil design, and the temperature of the process was 1600°F (871°C).
Benefits: This test shows brazing and hand feeding of alloy. With additional fine-tune of the power supply to output 10 kW, the cycle times would decrease. Pre-form rings would increase the repeatability of each cycle.
The main benefits of implementing induction heating equipment are energy efficiency based on the repeatability heat cycle and increased productivity.
Reference Info: Application Note 3463-7014
Read more about other brazing applications.
To request more information about this Application note, please contact us.
Subscribe to our YouTube Channel