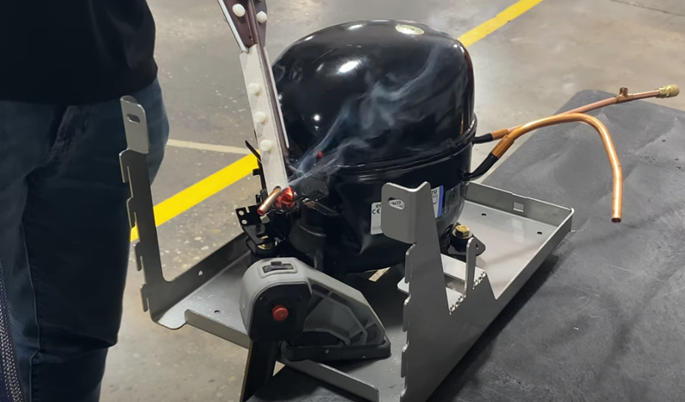 Objective: A leading manufacturer specializing in the production of compressor assemblies for medical and dental industries is considering induction heating technology. Currently, the customer uses torch heating to braze the copper tubes of the compressor.
Their expectations from induction heating include better quality and repeatability, higher production volumes, and a safer working environment. The main goal of this induction brazing application is to demonstrate the advantages of induction heating technology.
Each modular compressor assembly has 7-8 joints of varied sizes.
Industry: Medical & Dental
Equipment: The test was made with SOLO UBraze Series. We chose this system to demonstrate how the UBraze can braze several joints with the same coil.
Process: Our application engineers made preliminary calculations and simulations before the actual test. Each modular HVAC system has several copper tubes for brazing. We reached the desired heat cycle time of 5 seconds for a 1/4'' (6.35 mm) OD copper tube.
Benefits: The induction brazing process is easy and safe to implement. The production line could be optimized and automated with this innovative technology and equipment. The feature achievements of induction brazing are energy efficiency, a safe environment for the operators, increased productivity rate, and improved quality and reliability.
Reference Info: Application Note 3463-7172
Read more about other induction brazing applications.
To request more information about this Application note, please contact us.
Subscribe to our YouTube Channel