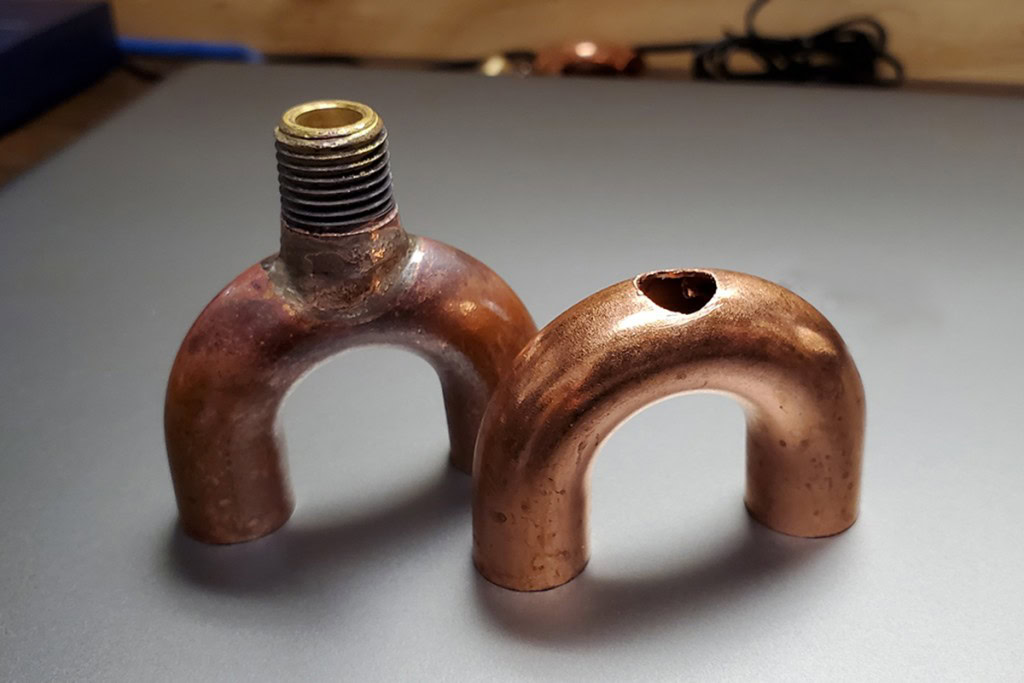 Objective:
HVAC manufacturers frequently use brazing of different parts in their processes. A customer is looking to replace torch brazing. They want to achieve better energy efficiency and increase the production rate to approximately 25 000 parts a month. That approximates to about 30 seconds per part.
To reach those goals, they will perform the process on a turntable with 16 positions, and the table will be able to slide in and out of the coil.
Industry: Appliances & HVAC
Equipment: The induction heating equipment used for this application test was UltraHeat SM – compact and easy-to-use 5 kW system.
Process:
The parts we had to braze with induction are copper elbows and brass fitting. The customers sent us two sets of samples of various sizes – small and large U-bend elbow.
We made two tests with two different inductors for the large U-bend elbow and one for the small one. Using two lab induction coils for the tests showed us which type gave the best results for this application. Our recommendation is a "C" shape design of the coil for this application.
The heating of the large parts was with 5 kW and 4.6 kW of power, and the cycle time was 25 and 26 seconds. For the small part, we used 4.6 kW of power, but the brazing time was 50 seconds.
Benefits:
The benefits of using induction brazing are a lot. For this kind of application, the manufacturers could optimize their process and, in the future, they could automate it. Energy efficiency is one of the important advantages of induction heating – for customers and the environment. The process could be controlled very precisely – the setting of power and temperature will lead to fewer production losses.
Reference Info: Application Note 3463-7160
Read more about other induction brazing applications.
To request more information about this Application note, please contact us.
Subscribe to our YouTube Channel