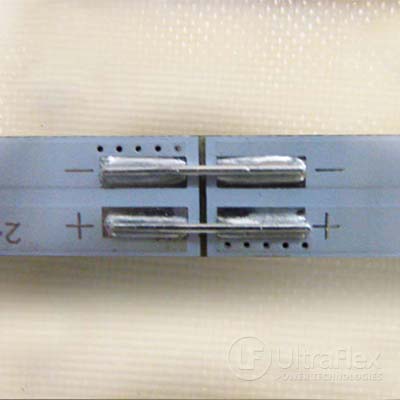 Objective
The customer uses a manual solder process. The current time to join 7 PCBs is 1 minute 45 seconds. It does not include the time to apply the solder paste and place the jumper across the PCBs in the paste. Our goal is to use induction soldering to reduce the cycle time while producing a high quality solder joint.
Equipment
UltraHeat UPT-S5
5 kW, 50-200 kHz
HS-4 Heat Station
Two-turn custom designed coil
Materials
• Soldering wire
• Soldering paste
Application of the solder paste with a stencil is recommended. This will provide improved process control, better repeatability, and avoid any residues.
Key Parameters
Temperature: 572°F (300° C)
Power: 3 kW
Time: 14 sec for joining 7 boards
Process:
Apply the solder paste on the pads of the printed circuit boards.
Place the copper jumpers in the solder paste across the pads of the adjacent PCBs.
Position the induction coil over the copper jumpers and pads.
Apply power to the UPT-S5, and heat for 2 sec. That's the time to heat one joint, and join 2 boards.
Confirm electrical continuity of across the jumpers by testing LED's on the printed circuit boards.
Results/Benefits:
Induction heating provides:
Strong durable joints
Selective and precise heat zone, resulting in less part distortion and joint stress
Less oxidation
Faster heating cycles
More consistent results and suitability for large volume production, without the need for batch processing
Clean and safe heat application, without pollutants