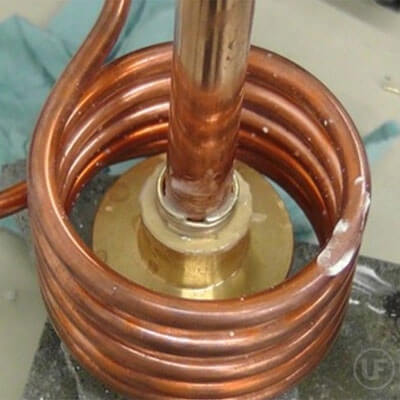 Objective
Successfully demonstrate that repeatable brazing can be achieved without the need for skilled labor.  Achieved by simply setting up the sample in the coil and applying induction heating for a pre-set timed heating cycle.
Equipment
SM5/200 Power Supply
HS-4W Heat Station
Ultraflex custom coil
Key Parameters
Power: 5 kW
Temperature: Approximately 1200°F (650°C)
Time: 120 sec
Materials
Brass base:
Weight: 1.2lbs (0.54kg)
Major diameter: 1.740" x 1.44" (44mm x 36mm) high
Minor diameter: .91" x .68" (23mm x 17mm)
Invar tube: 0.54" OD / 0.36" ID (14mm OD/ 9.1mm ID)
Overall length: 8.94" (22.7cm)
Alloy Safety Silv 56 wire formed as rings. Alloy wire diameter 0.062" (1.6mm)
White brazing flux
Process:
Parts were pre-fluxed with White brazing flux and assembled with four pre-formed alloy rings placed at the interface entry area of the tube to the base. (see photos)
Heat time required to fully flow the alloy was 120-125 sec.
An additional 3 minutes were allowed following the braze cycle to permit the molten alloy to solidify.
Once the alloy was solidified, the assembly was removed and water-cooled.
Results/Benefits:
The test demonstrates that the assembly can be repeatedly used for brazing without the need for skilled labor. Pre-assembly of flux and alloy rings allows the brazing to take place by simply placing the sample in the coil and heating with a pre-set cycle. While one assembly is being heated, another one can be prepared.